Pumpkin smoothie with Apple, Pear and warming Spices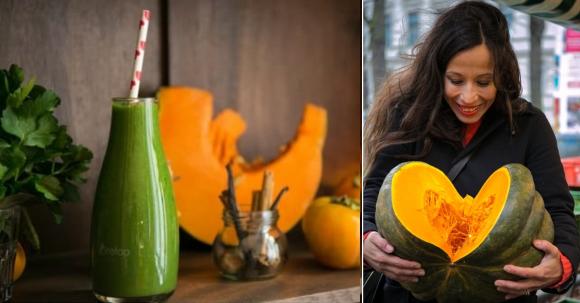 There are about 800 pumpkin varieties! Small, large, all kinds of shapes and colors - for eating or just as decoration. What would autumn be without these magnificent vegetable fruits! Which of them fits best in a green-pumpkin smoothie - we have been looking for a long time... good things take time, we have finally found what we were looking for: nutmeg pumpkin.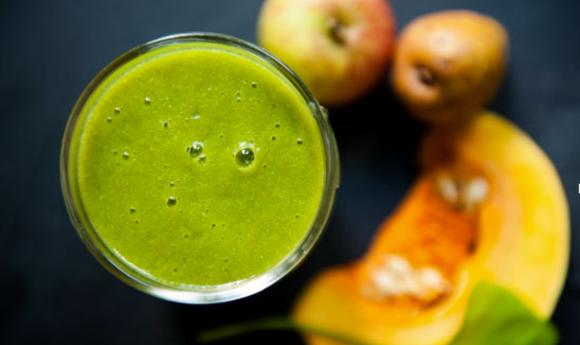 Pumpkin smoothie recipe: Musketeer
Unlike Hokkaido or butternut, Muscat squash doesn't taste like starchy mush when pureed raw, but resembles its relatives - melons. This pairs perfectly with pear and apple, as well as the sweeteners banana and Medjool date.
We also combine the subtle nutmeg pumpkin flavor with warming pumpkin pie spices: a little nutmeg, cardamom, allspice, cinnamon and vanilla. In our opinion, the smoothie tasts best with a mild green base - e.g spinach or the winter salad Indian lettuce.
Spice tip: In general, spices can add variety to green smoothies - just try your favorite flavors. It's best to start with small amounts because a high-speed blender extracts all the aroma.
Pumpkin smoothie
With apple, pear and warming spices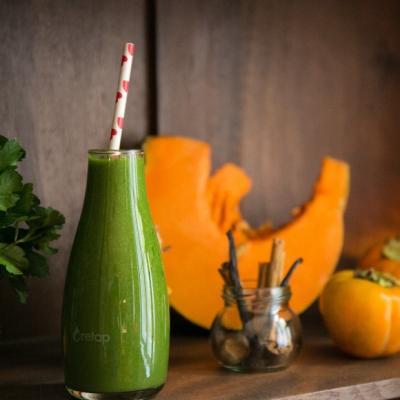 Ingredients
2

handfuls of spinach or Indian lettuce

100

g nutmeg pumpkin

raw

1

banana

peeled

1

small apple

with peel

2

small pears

with peel

2

medjool dates

stoned

2

oranges

only the juice

1

thin slice of lemon

with peel, about 1 cm

300

ml water
Instruction
Wash leafy greens, pear and apple, chop if necessary.

Peel banana and pumpkin, remove pumpkin seeds and add to the container first. Then add the rest of the fruit and leafy greens.

Add spices to taste and personal preference. Finally, add fresh orange juice and water.

Blend on maximum speed until you have a uniform creamy consistency - about 1 minute.

Enjoy your pumpkin smoothie from the heart!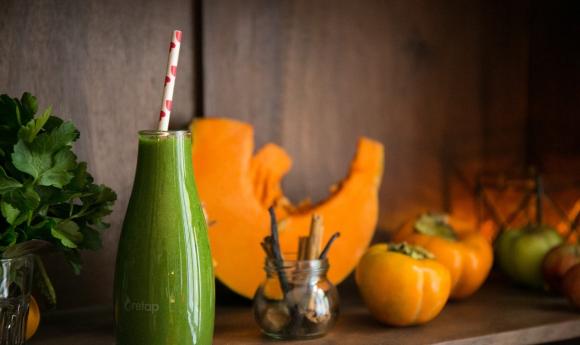 Would you have thought you could drink raw pumpkin in a green smoothie? How do you like our "Musketeer"?
We'd love to hear your feedback on the pumpkin smoothie here.