Mint Smoothie: "Clara head"
Awake and clear into the new year?
We are going to start the New Year green! expel potential shadows of the night with a hydrating and acidulous fresh smoothie with mint. Lime and lemon have an alkalizing and refreshing effect, while mint stimulates fat metabolism, promotes blood circulation and soothes. Add plenty of cucumber, it is high in water and minerals, alkalizing and digestive. One or two sweet dates round up the taste and are a super energy supplier for the new day.
Smoothie with mint
"Clara Head"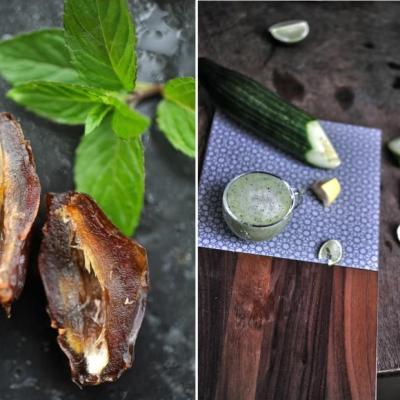 Ingredients
3/4

cucumber

mint leaves

fresh, from a branch

lime juice

juice of half a lemon

dates

soft, type: medjool

a little water

if needed

1/4

honeydew melon

for those who like it sweet
Instruction
Clean the ingredients and cut them to the appropriate size for your blender.

Place all ingredients in your high-speed blender, add a little water and blend for about 30-45 seconds. If you don't like the consistency of your smoothie, just add a little more (spring) water.

Enjoy with all your heart!
Have a great start into your new year!
We appreciate your Feedback!