Sport Nutrition Green Smoothies: Pre-Workout Drink & Refresher at Half Marathon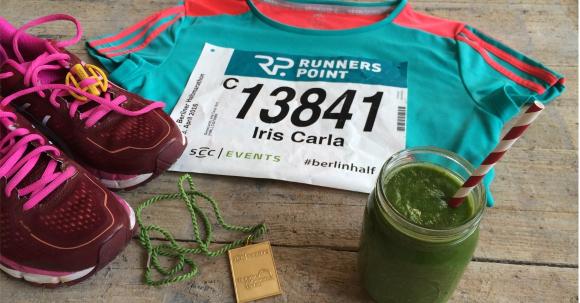 "Birds fly, fish swim, humans run" - As the great marathon icon Emil Zatopek once said, running has become my passion - I love it. After 13 marathons, even while pregnant, the following is all I can say: Running is part of my everyday life - just like the daily green smoothie. It is only logical to combine these two passions. Therefore I am testing the Green Smoothie in several categories: As a pre-workout drink before long training sessions and as a refresher and recovery drink afterwards. I'm also testing the Green Smoothie as a competition breakfast, namely at the 36th Berlin Half Marathon - the big kickoff of the Berlins running competitions.
Sports nutrition before training: Green smoothies as a starter
Going for a run that lasts longer than an hour, it is important to eat something beforehand. Otherwise, my blood sugar level drops to such an extent that I get very hungry and just drag myself through my workout. My solution: 300 ml of green smoothie befor the workout. This mixture provides easily digestible carbohydrates from fruits and at the same time stabilizes my blood sugar level with its high content of green fiber. Green Smoothies are easy to digest and saturate me perfectly. Important: A smoothie before your workout does not replace drinking water before, during and after the run!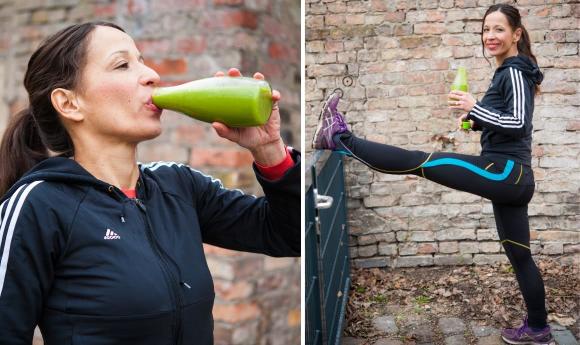 Green smoothies - Perfect workout booster before and after running.
Sports nutrition after training: Green smoothies for regeneration
In the past, I used to drink supplements in the form of sports drinks after long runs. Today, I drink lots of water followed by a green smoothie: my post-workout smoothie, consists of carbohydrate-rich dates and plant-based protein from leafy greens like nettles or kale. To top it off, add fruits like bananas (which contain lots of potassium and magnesium) and fresh coconut water (which is THE isotonic drink of nature). This replenishes my empty carbohydrate reservoirs for a while, replenishes mineral losses, and even provides some protein for muscle and tissue regeneration. Another benefit: The green smoothie is an alkaline meal that helps the body neutralize lactic acid (lactate) produced during training. Natural sports nutrition without synthetic substances couldn't be better.
In the test: The Green Smoothie as a competition breakfast
I won't know how well it all really works until it comes down to the test. I'm about to run 21.1 kilometers in the 36th Berlin Half Marathon. I'm determined to finish in just under 2 hours - I also want to test how suitable the green smoothie is as a competition breakfast! On day X, I swap my well-known white flour honey-coated roll for exactly 300 ml of green smoothie, which I consume 90 minutes before the marathon. This liquid breakfast is extremely convenient for me, I can rarely eat solid food before 10 a.m. - especially not on days when I'm excited. Still, doubts arise: Will the green smoothie provide enough energy for a half marathon? Won't the fiber take me to a porta-potty and cost me valuable time? Green smoothies are not only extremely dehydrating, but also immediately stimulate digestive activity. All worries turned out to be a false. I reached my goal - 1:58 hours - while keeping a fairly steady pace. Afterwards, I continue as before: 800 ml of green smoothie for regeneration.
Nutrition tips for a green competition breakfast:
Be sure to test the Green Smoothie as a pre-workout drink during training.
Determine the amount of smoothie according to constitution and distance.
Have your Green Smoothie at least 90 minutes before the start of the competition.
The Green Smoothie in the morning does not replace drinking additional water before, during and after the race.
300 ml Green Smoothie befor the competition - 800 ml for recovery afterwards.
Conclusion: From now on I always drink a green smoothie before competitions
Green smoothies are a natural nutrient enrichment for athletically active people - especially for ambitious endurance athletes. Runners, cyclists, triathletes et al must pay attention to a balanced diet that covers their increased nutrient needs. I value natural sports nutrition, therefore green smoothies are perfect for me. With the green smoothie I have found a competition breakfast that doesn't require me to overcome being a breakfast grouch. To what extent this also applies to others should be tested extensively in training.
What do you think about green smoothies and sports nutrition?
Do you have experience with green smoothies as a pre- and post-workout drink? If so, how much green smoothie do you drink before exercise and how much after? Are there any ingredients you particularly like to use? I look forward to your Feedback here!