Sauerkraut Juice: all Information about the Healthy Probiotic Cabbage Juice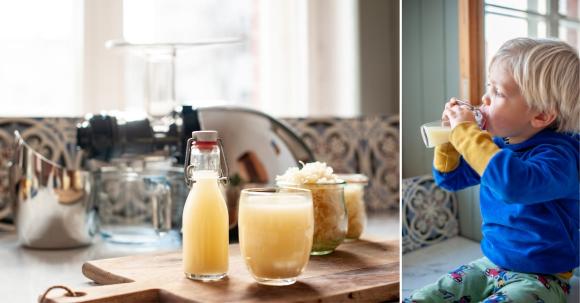 We can not do without juice, especially freshly squeezed sauerkraut juice. This salty, spicy-tasting juice is a probiotic blessing for the body. Along with raw sauerkraut, kimchi, miso paste or kombucha, it is one of the fermented foods that strengthen and increase the good intestinal bacteria, you could also call them natural probiotics.
The healthy cabbage juice can be produced in two different ways: Either you prepare it directly from chopped fresh white cabbage and let the cabbage ferment together with spring water for 4-5 days, or you simply squeeze the juice out of raw sauerkraut. We like the second variant, because it simply tastes better to us.
Of course, you'll also learn why sauerkraut juice is so healthy, what kind of sauerkraut we use to make it and how you can easily prepare it with a slow juicer. We'll also tell you how to turn sauerkraut juice into a real gourmet juice in combination with fruits and leafy greens.
Sauerkraut juice: Topics at a glance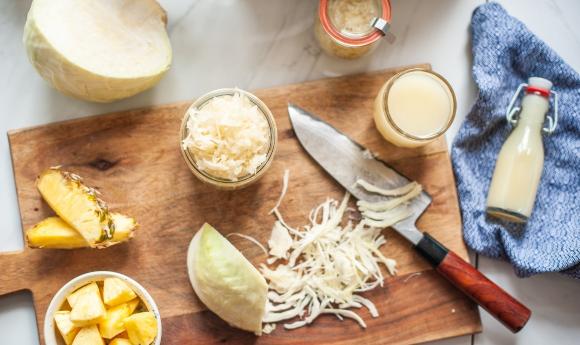 What is sauerkraut juice made of?
Freshly squeezed sauerkraut juice is made from 100 percent lactic fermented white cabbage, better known as sauerkraut. Only raw sauerkraut is used to make sauerkraut juice - only its raw form contains all the nutrients and vital substances. If the sauerkraut is heated for the purpose of preservation, it not only loses heat-sensitive enzymes and vitamins, but also valuable lactic acid bacteria and the probiotic effect. When shopping, you can recognize raw sauerkraut, by it beeing in the refrigerated section.
Is sauerkraut juice healthy?
Supports intestinal health and immune system
In our opinion, sauerkraut and the sauerkraut juice made from it, like all fermented foods, are among the healthiest foods of all. They could also be called mega superfoods. Due to their method of production - fermentation by lactic acid fermentation - sauerkraut, kimchi & Co. contain millions of lactic acid bacteria, which make them natural probiotics. The lactic acid bacteria multiply the good intestinal bacteria, we especially need these for a healthy intestinal flora. If the intestinal flora is balanced, our immune system and our defenses are strengthened. 80 % of all immune cells are located in the intestine. In addition, the lactic acid bacteria also supports digestion. Sauerkraut juice can provide fast and effective relief for constipation. Sauerkraut juice can also be used as a cure after antibiotic therapy, it then destroys both: good and bad bacteria in the intestine.
During this treatment, a shot of 20-30 ml of sauerkraut juice is drunk daily for at least 10-14 days - preferably accompanying the intake of probiotics. In this way it is possible to support the colonization of good intestinal bacteria and rebalance the intestinal flora.
Supply of vitamins and minerals
Raw sauerkraut and freshly squeezed sauerkraut juice contain lots of vitamins and minerals - among other things it contains: vitamin C - important antioxidant for the immune system and metabolism, vitamin K - important for healthy bones and blood clotting, potassium and magnesium - important for the heart and muscles.
What is special, however, is the proportion of vitamin B or the presence of vitamin B12. This is because vitamin B12 is rarely found in vegetables. In fermented foods, it is supposed to be produced by the lactic acid bacteria. This is a good thing, vitamin B12 is essential for many metabolic processes - including the formation of red blood cells, cellular detoxification, energy production and the formation of the myelin sheath (protective layer of the nerves). Especially in a vegan diet, fermented foods should not be missing! sauerkraut juice might be another interesting option.
How does freshly squeezed sauerkraut juice taste?
Sauerkraut juice tastes delicious! Salty and spicy, with a pleasant acidity but much milder than raw sauerkraut. Juicing separates the fiber from the juice. If you don't like sauerkraut that much, but want to incorporate more probiotic foods into your daily diet, you may find freshly squeezed sauerkraut juice a beneficial alternative to the classic sauerkraut.
If the taste of pure sauerkraut juice still is too intense for you, nothing is stopping you from squeezing sauerkraut together with other ingredients such as pineapple, apple or leafy greens. You can find a mixed sauerkraut juice recipe here.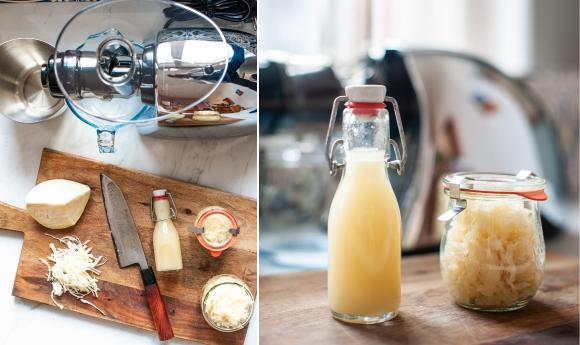 How do I prepare fresh sauerkraut juice? Which juicer is suitable?
Freshly squeezed sauerkraut juice can be easily made with a slow juicer. The raw sauerkraut is squeezed against a sieve under high pressure, this way only a few revolutions per minute are necessary to juice extremely efficiently and in a nutrient-preserving way. Depending on the model, a slow juicer is either build horizontal or vertical with one or two augers, it can rotate fast or slow, between 40 and 80 revolutions per minute. This juicing process ensures maximum nutrients content and a full-bodied flavor. In a slow juicer Oxidation and heat generation are kept to a minimum, heat-sensitive enzymes or vitamins don't get lost.
Simply pour the raw sauerkraut into the hopper of your slow juicer and push it towards the pressing mechanism. Now the sauerkraut is juiced - the freshly pressed pure sauerkraut juice ends up in the juice jug, while the fiber ends up in the pulp collection container.
We haven't tested to what extent centrifugal juicers are suitable for the preparation of sauerkraut juice. However, we know from our juicer tests for celery juice/wheatgrass juice (not possible with a centrifugal juicer) that the juice from centrifugal juicers is exposed to increased oxidation and heat development. The reason for this is the centrifugal juicing principle, which, unlike the slow juicer method, relies on speed: At 15,000 revolutions per minute, the ingredients are spun against a large sieve and are squeezed out. Due to the high number of revolutions, significantly more heat is generated and more oxygen infuses the juice. Both lead to undesirable loss of nutrients. We therefore recommend a slow juicer for the preparation of sauerkraut juice.
What is the shelf life of freshly squeezed sauerkraut juice?
If you store freshly squeezed sauerkraut juice in the refrigerator, it will keep for at least 24 hours. But of course, even when well chilled, it loses nutrients during this time - e.g. through oxidation. We therefore recommend drinking the sauerkraut juice immediately after preparation.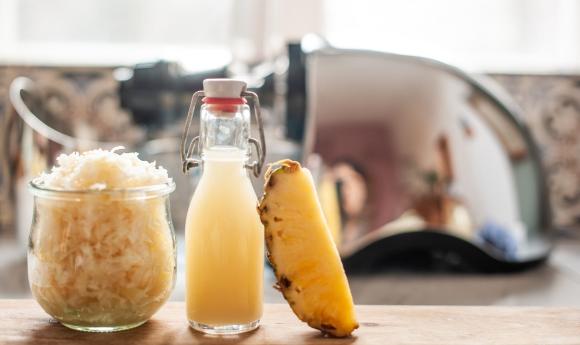 Where can I buy fresh sauerkraut for juicing?
You can find raw, unpasteurized sauerkraut in most organic markets and stores or in well-stocked supermarkets. Sometimes it is also offered at weekly markets during the winter season.
In organic or grocery stores, raw sauerkraut is always found on the refrigerated shelves. Some producers deliver it in so-called fermentation pots made of glass - our preferred variant - or plastic wrapped.
How much sauerkraut do I need for 50 ml?
Depending on the quality of sauerkraut - sometimes it contains more juice, sometimes less - you need about 70-80 g of raw sauerkraut for 50 ml of pure juice. Of course, the juice yield also depends on the slow juicer used. For example, an Angel Juicer gets a little more juice out of 70 g of sauerkraut than the Sana Juicer-707. But the latter costs almost one third of the Angel Juicer. All information about Slow Juicers can be found here.
How much sauerkraut juice should I drink?
There is no general answer to this question. Sauerkraut juice can have a laxative effect if drunk in large quantities. Sometimes this effect is even desired, e.g. for initiating fasting cures or for constipation. We therefore recommend starting slowly, with small shots of 20-30 ml. If you tolerate it, you can safely drink 50 ml or even more sauerkraut juice. Just feel your way slowly!
Buy sauerkraut juice or make it yourself?
Sauerkraut juice is so popular that it is even offered in drugstores like DM. However, this type of sauerkraut juice is a highly heated product. This means that although this sauerkraut juice has a long shelf life if unopened, it has lost many nutrients due to the preservation process - including the heat-sensitive B vitamins and vitamin C, as well as the enzymes that aid digestion. But that's not all: Highly heated sauerkraut juice has also lost its probiotic effect, thereby also its positive effects on intestinal health and the immune system.
Therefore for us, there is no way around making sauerkraut juice ourselves. Unless you find a juice bar where you can be sure that the sauerkraut juice on offer is freshly pressed.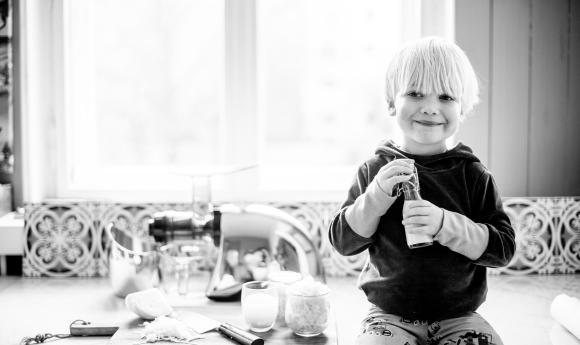 Sauerkraut juice recipes to make yourself
We love pure sauerkraut juice - or rather, sauerkraut juice shots. But if that salty, spicy flavor is too intense for you, especially at first, raw sauerkraut also combines well with other juice ingredients like fruit and leafy greens. This is how we created our Green Sauerkraut Juice with pineapple, endive and some lemon. A fruity mixture with pleasant acidity and bitter notes of endive.
Sauerkraut juice
100 percent pure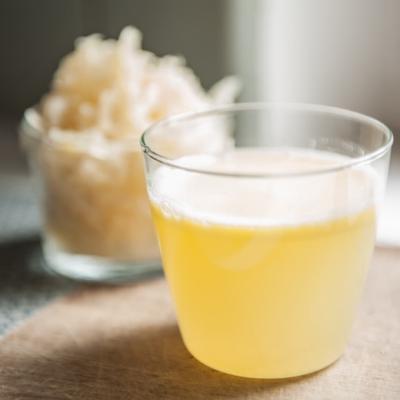 Ingredients
150

g sauerkraut

in raw quality, not pasteurized!
Instruction
Gradually pour the sauerkraut into the hopper of your juicer and push it towards the auger with the compatible tamper. The sauerkraut juice is ready when no more juice drips from the juice drum.

Best enjoyed immediately or stored in the refrigerator for a maximum of 24 hours.

This recipe was created with the Angel Juicer.
Green sauerkraut juice
With endive, pineapple and lemon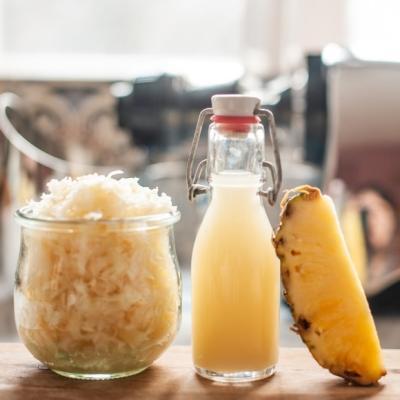 Ingredients
70

g sauerkraut

raw, not pasteurized!

150

g endive

150

g pineapple

peeled

15

g lemon

with peel
Instruction
Wash endive and lemon, peel pineapple and cut into pieces that fit into the hopper of your juicer.

Gradually add the ingredients to the hopper and push them towards the auger with the compatible tamper. The sauerkraut juice is ready when no more juice drips from the juice drum.

Best enjoyed immediately or stored in the refrigerator for a maximum of 24 hours.

This recipe was created with the Angel Juicer.
Have you ever had freshly squeezed sauerkraut juice?
We appreciate your Feedback!